For the last few months, I've been scrimping away money to restart my tattoo collecting. I currently have three altogether, all from different shops in my area, and out of the three who did the work, I decided to return to one in particular. I liked the artists that worked there, and trusted their professionalism so much so that I've unfailingly recommended this tattoo parlor to everyone that would ask me where to go for quality artistry.
That all changed this morning when I received a response to an inquiry I'd sent a week ago. Now, I'd already contacted the shop prior to the message I received this morning, and even had a Saturday appointment set. The email said the following about the piece I'd requested to be done: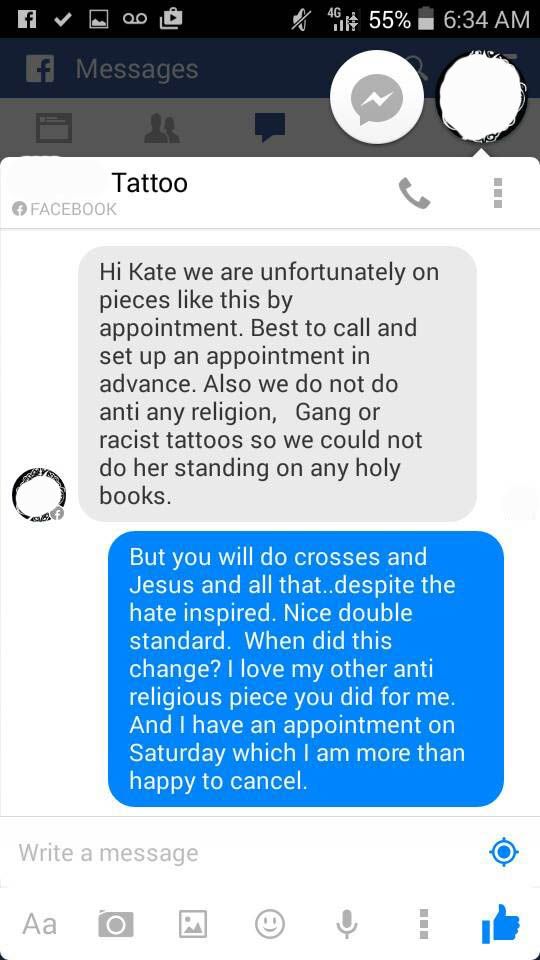 "What on earth did you request to be tattooed?" , you might be wondering. Take a look for yourself, and keep in mind where the turtle is, I was wanting a stack of holy books instead. You know, the Bible, the Qur'an, and probably the Talmud. Essentially a sci fi Alice in Wonderland being depicted as having conquered religious fantasy. I really wanted her as a centerpiece to my science fiction themed sleeve I planned to create.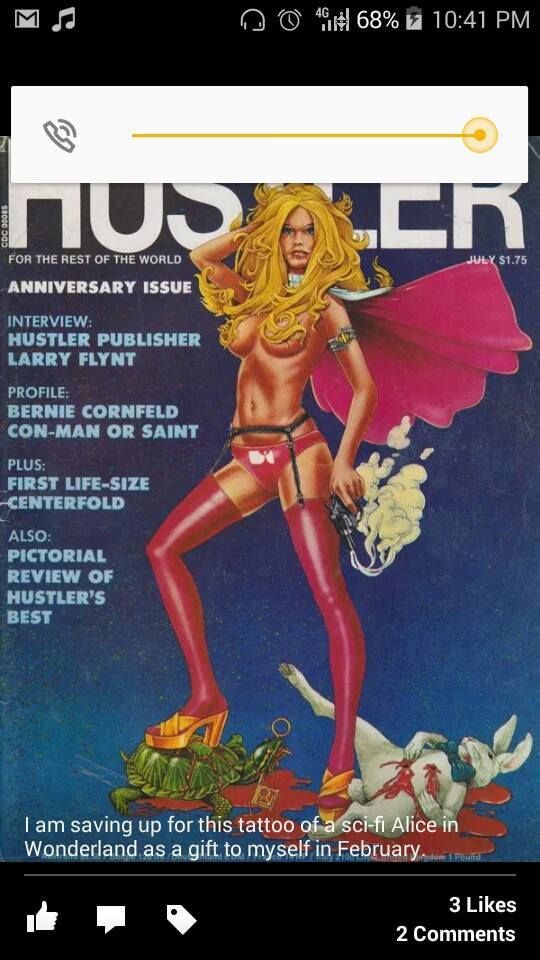 Now, I found his response to my original design inquiry to be preposterous. Especially as this refusal is on behalf of the entire shop, and not just a particular artist not wanting to do it. Even more frustrating is the fact they've already done an anti religious fashioned tattoo for me a few years ago, and Alice is a sweet picnic in a park compared to the previous tattoo I am talking about now. Check it out.
So, I responded as civilly as I could muster. I mean, I felt my anti religious attitude was being equated to racists or gang behavior. I was angry and confused at the change in standards. I wanted to know why anything anti religious was taboo, and more importantly, why this shop didn't recognize the hate inspired by crosses, bible verses, and so on. All I got for an answer was a whole lotta avoidance.
At this point, I realized it was hopeless to argue, but I called out his obvious discrimination, and made it clear this kind of supported societal "correctness" flew in the face of the freedom of expression that is intrinsic to tattoo art. And of course I said I'd quit crediting his shop.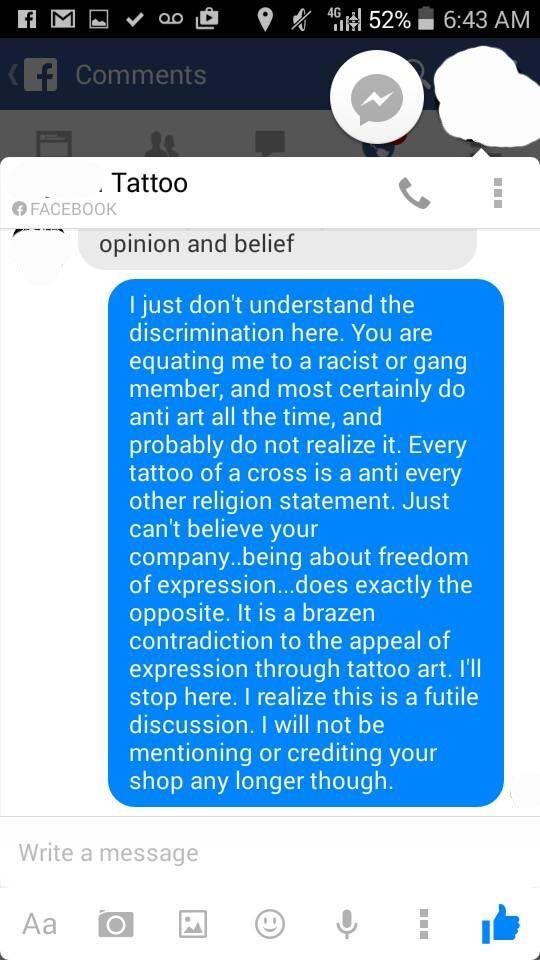 Now, in my mind this discussion has ended. And frankly, I am the one ending it, so this is a business owner's dream scenario when disappointing a customer. He wasn't going to really explain why he lumps anti religious material in with gang art or racist propaganda. I was wrong about that. In fact, Godwin's Law came into full display. Yes. He played the Hitler card! Insert the Reductio Ad Hitlerum... Read more here at my blog The Bluegrass Skeptic http://thebluegrassskeptic.com/wp-admin/post.php?post=463&action=edit